Among the 12 Jyotirlinga temples of Shiva, Kedarnath Dham occupies the 11th position. Why Shiva is worshipped as Kedarnath here..? How did Shiva get the name Kedarnath? What is the history of Kedarnath?
Located in the lap of the Himalayas, Kedarnath Dham, a place of devotion to Lord Shiva, has beautiful natural scenes and mythological stories. The gates of the Kedarnath temple were cleared for devotees on Friday, May 6. After this, the Kedarnath Yatra begins. One of the many important names of Lord Shiva, Kedarnath is the 11th of the 12 Jyotirlingas. Why Shiva got the name Kedarnath and what is the history of this temple, today we will know interesting things about it.
Hence Shiva became Kedarnath here
Kedarnath is mentioned in Purana texts. According to this story, once in the Satya Yuga, Vishnu incarnated as Nara and Narayana and began to do severe penance on the Nara and Narayana mountain on the banks of the Alaknanda river. Because of his penance, Shiva appeared and asked for a boon. Then Nara and Narayana said about Lord Shiva, Lord Shiva we do not want anything else, come and settle here. Then Lord Shiva gave the boon of manifesting Himself in the form of Shivalinga and established Himself in the form of Shivalinga. There was a king named Kedara at the place where Shivalinga appeared and this part of the earth was called Kedara Khand. Hence this Jyotirlinga of Lord Shiva was called Kedarnath.
These are mentioned in Shiva Purana
The glory of the holy land of Kedarnath is told in Shiva Purana. According to this, it is said that whoever dies while visiting Kedarnath Dham, the door of salvation is opened directly to him and he gets a place in Shivloka.
The Pandavas laid the foundation of the temple
The temple is said to have been first discovered by the Pandavas during the Dwapara Yuga. It is believed that the Pandavas came here in search of Lord Shiva to get rid of their sins. Stories say that Janamejaya, a descendant of the Pandavas, was the first to lay the foundation of the temple. After that Adisankaracharya renovated the temple.
So the Shivalinga here is like the back of a bull
It is said that after the Pandavas performed penance here, Lord Shiva appeared to them in the form of a bull. The Pandavas then requested Bholebaba to settle there, after which Lord Shiva seated himself in the form of a bull and settled in the form of a Shivlinga. That is why the Shivlinga here looks like the back of a bull.
A new chapter was added in 2013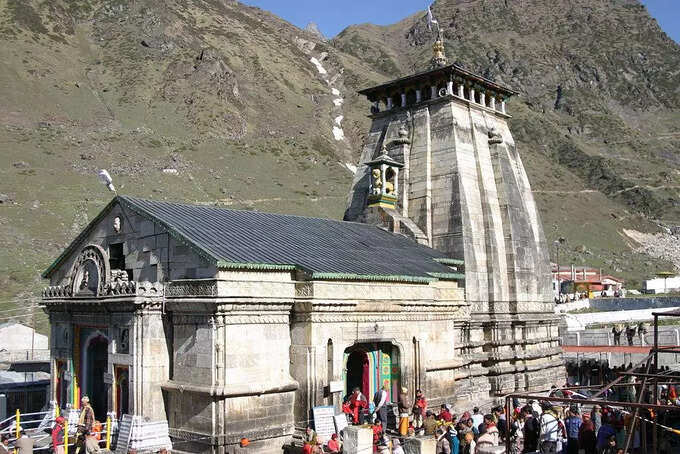 In 2013, when there was a terrible natural calamity here, a giant rock sat on the temple, but the temple was not damaged. Since then this giant rock was worshipped as Deva Shile and a new chapter was added to the history of the temple.